The Twin Cities Slovenians began our 13th year of Slovenian language classes in October 2023, meeting once a month on Saturday mornings via Zoom.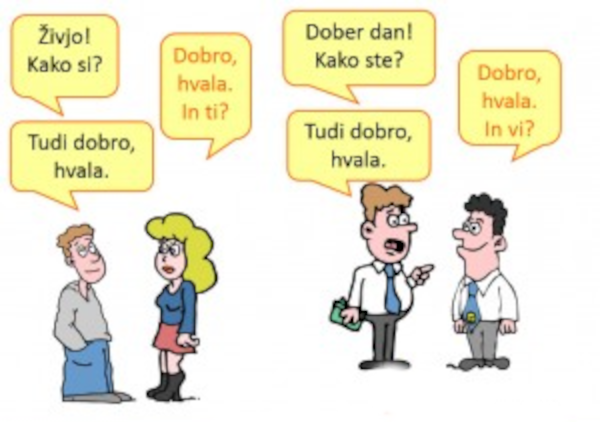 For 2023 – 2024, we have three classes:
8:00 – 8:30 for children age 8 – 12 with an adult
9:00 – 10:25 am for beginners
10:30 – noon for intermediate
Teenagers are welcome to join the beginner or intermediate class if they are accompanied by an adult.
Here are the draft dates for 2023 – 2024:
October 28, 2023
November 4, 2023
December 9, 2023
January 6, 2024
February 3, 2024
March 2, 2024
April 6, 2024
May 4, 2024
Our teacher joins us via Zoom from Slovenia. You do not have to purchase a textbook – learning materials are provided for each class. Although the focus is on learning Slovenian, the class is informal and we have lots of fun learning about Slovenian culture and getting to know each other. Classes are not recorded and are not intended for people who are only interested in observing. Everyone is expected to participate, each according to their own ability.
There is no fee for the class, but participants must be donating members of Twin Cities Slovenians. The recommended annual donation is $20 for individuals, $30 for families with children Learn More
The enrollment deadline was October 22, 2023 and is now closed for this year.
If you have questions, please contact John Zakelj by e-mail: language@twincitiesslovenians.org
The objective of this group is to increase Slovenian vocabulary and improve pronunciation of the Slovenian language. To be able to comprehend and construct simple sentences in Slovenian both spoken and written, and to have fun learning about Slovenian life, music and culture.
Regardless of whether you participate in the class, we encourage you to practice using materials that we have used in the past, including ABC Gremo, Pocket Slovene, www.slonline.si and Anki, a computerized learning model that complements www.slonline.si,. "Colloquial Slovene, The Complete Course for Beginners" (Second Edition) book may also be used to add vocabulary and provide more exercises.
A suggested method in using these resources for learning the vocabulary would be to complete a chapter of the course on www.slonline.si including the chapter test and then download the "Anki Deck" to your computer's Anki program to do more practice on the lesson's content. More information on the use of Anki can be had by viewing the PowerPoint presentions below. (PowerPoint is not required to view these presentations.)
Anki Related Downloads
The core of the Anki flashcard program is an advanced algorithm, developed by a team to save you time. As you study, it learns how well you know each flashcard, then prioritizes them for you, so you study the things you don't know, without wasting precious time on the things you already do proficiently.
The primary program (required) runs on several platforms including Windows, Apple Mac, Linux and Chromebook. This program allows of creating new flashcards, importing existing flashcards, plus tools to add audio and video to the make your own flashcards. Most importantly, the program will guide you through the learning process. These programs are free and downloadable below.
Additional apps are available allowing you to use your smart phone or any computer to control the learning process wherever you happen to be. The two most popular apps are AnkiMobile for Apple products and AnkiDroid for Android devices. There is a one time fee for AnkiMobile of $25 and is available at the Apple App Store. AnkiDroid (available on Google Play Store) is free as are the programs as are the primary programs that run on Microsoft and Apple Mac. For Apple users who prefer not to pay the fee, a website called AnkiWeb can be used on any computer that runs a browser. AnkiWeb, like AnkiMobile and AnkiDroid, have limited features.
Download Anki Program Files
The Anki app is hosted at app.ankiweb.net. The site offers documentation and support along with download links at the bottom of the home page.
Anki Decks & Vocabulary Sheets
These flashcard download files correspond to the 11 assignments that are a part of slonline.si (University of Ljubljana) website.
Anki Class Presentations
The following are the presentation slides in PDF format.